Nishijin Brocade Arts and Crafts Asagi's technique
Nishijin Brocade Arts and Crafts Asagi's technique

This is the most important process for Nishijin brocade using colored yarn.
The designer writes in full size.

Brocade blueprint. Enlarge the design and copy it on graph paper.

The pattern design required for the Maru-Obi is about 15m in length × 1.8m in width.
Each cell is painted separately, in order to indicate the weaving structure.

Select the best yarn for design. Examine the twisted yarn(※) such as texture and thickness that matches the work.
※Twisted yarn is a yarn made by twisting several fine raw yarns.

Remove the dirt and oil from the raw silk, and draw out the natural suppleness of silk.
Hand dye the warp yarn to match the design.

First, the dyed warp is wound on a spool to use warp.
Next, arrange many warp frames and wind them up on a large drum.

Wind the dyed weft thread into spool.
And roll it up on bobbin for set the shuttle.

A skilled weaver is required to handle the 1800 needle jacquard loom.
Nishijin Brocade Arts and Crafts Asagi's technology "1,800 needle jacquard" is ...
The weaving pattern is composed of warp and weft.
If the point where the warp and weft intersect is 400 for the Obi width (about 30cm), it is "400 needle" , 900 for 900 needle and 1800 for 1800 needle.
The pattern (Design of textile) shows the intersecting points with 1mm square graph paper.
Nishijin's general textile is woven with 400, 600, 900 needle jacquard, and the more squares in the horizontal row of the pattern the more it can be finely.
Kimono such as Yuzen and Sarasa with dyeing techniques can be delicately expressed, but it was said that textiles were difficult to express curves in terms of structure, and delicate expression was impossible.
However, the development of weaving technology has enabled to express like a pictures, by making full use of the 1800 needle jacquard loom, which boasts 4 to 9 times the delicateness of the common Nishijin textile in recent years.

Nishijin Textile Weaving Process
There are many processes to the final weaving. One of the characteristics of Nishijin textile is that each process is an independent division of labor. More than 20 professionals, including designers, design crest business, twist yarn industry, yarn dyeing industry, warp business and so on, involve the project and finally one piece is completed.
Nishijin is a special place where an advanced division of labor is. It is a refined textile production area where the master of craftsmen demonstrates their skills.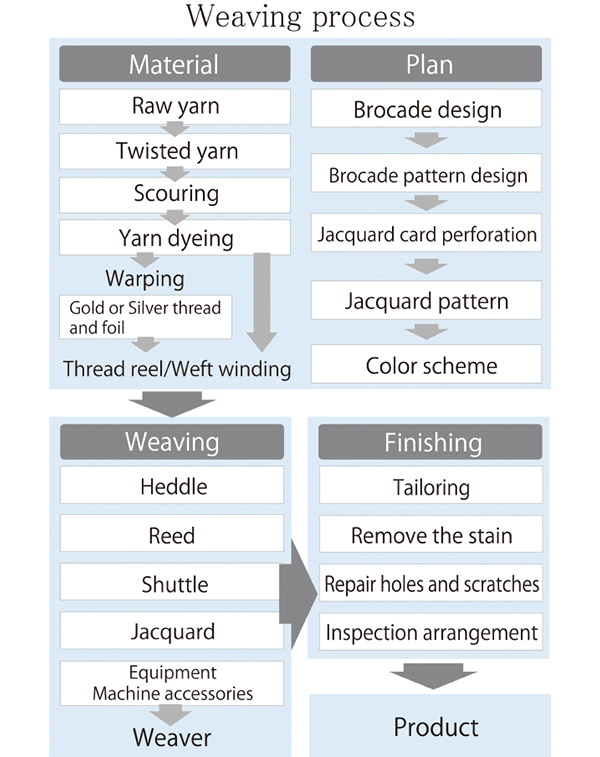 Nishijin Brocade Arts and Crafts Asagi's technique