Nishijin Brocade Arts and Crafts Asagi
Nishijin Brocade Arts and Crafts
Asagi
Master the delicate thread world.
Discover a masterpiece wearing a sophisticated veil.
Korin Ogata, Hokusai Katsushika, Jakuchu Ito, Monet, Van Gogh ...
We express the art that is loved over a long period, with delicate weave techniques.
Take you to a new world of arts and crafts, which was produced by the oldest traditional industry in Japan, [Nishijin Ori].
Weaving Technology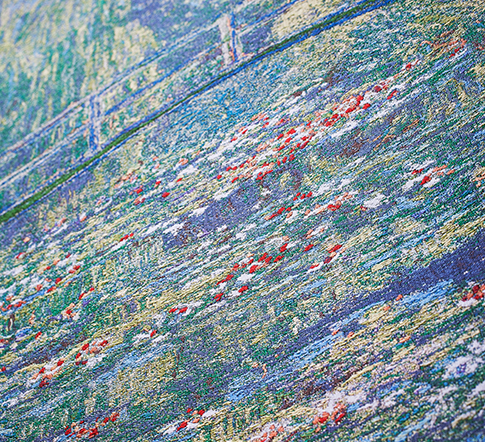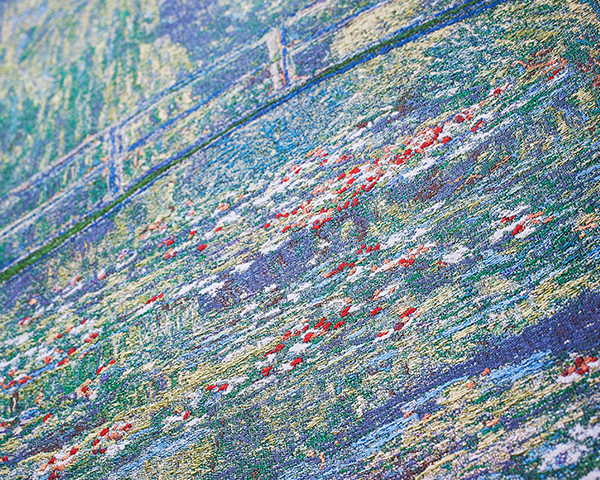 1800 needle jacquard with the finest weaving technology of Nishijin was mastered the elaboration.
The craftsman weave more than 4 times as fine as general Nishijin textile to express the advanced artistry of the beautiful nature of each season, and many masterpieces were left by the predecessors.

Finest Silk Thread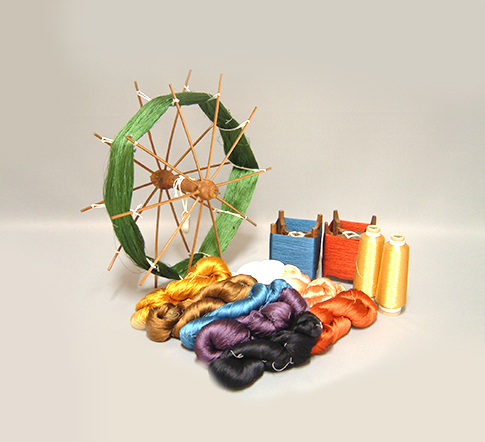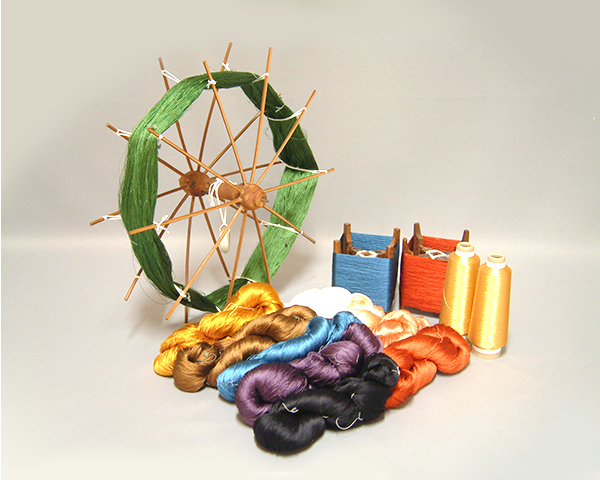 No compromise on all materials.
The raw silk is the "6A grade" of Bratac, Brazil, which also uses European super brands.
The craftsman carefully dyes it. As a result, it is hard to lose color and has a rich thread.
Pure gold foil and platinum foil weaving together are also more than 999‰ pure.
That's the reason why luster and quality never change.

The Genealogy of Beauty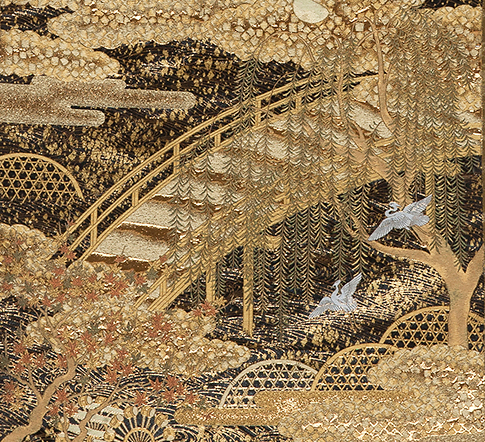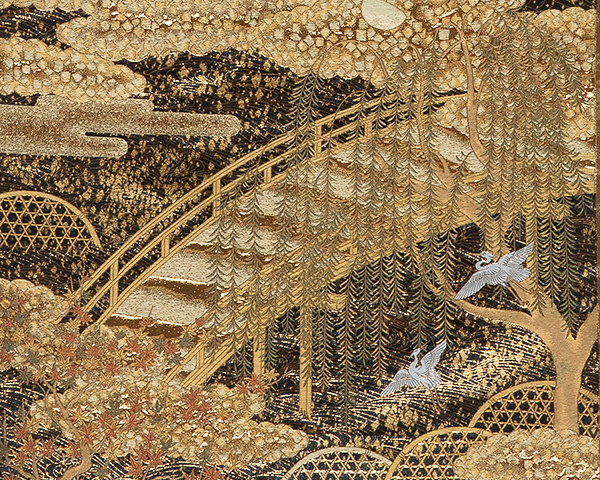 Feel the aesthetic sense unique to Japan
In the old days, Japanese art started with Buddhism.
So while receiving the influence of continental culture, Japanese art has honed its own expression and aesthetic taste.
Beauty expressions such as Buddhist art, Rimpa, and Ukiyo-e that were born in a long history, had a great influence on European painters such as Monet and Van Gogh.
We express abundant brushstrokes, colors and free ideas in the textile world.
People Spining ASAGI Brocade

short ver.
Nishijin brocade arts and crafts Asagi's thought.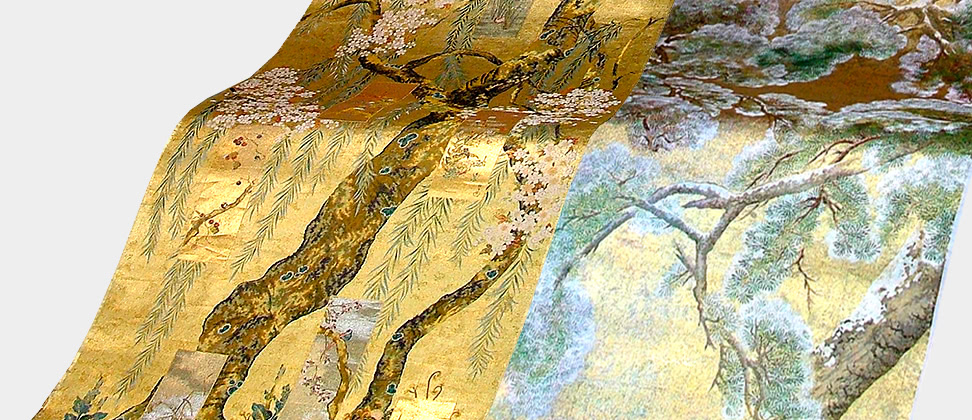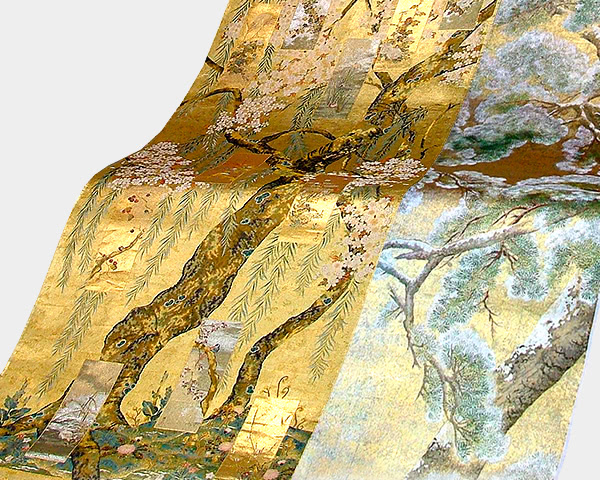 A magnificent scale with a width of 65cm × length of 4.5m. The pattern is a panoramic view with no repetition using that scale. Keeping particular about traditional Maru-Obi is the origin of Nishijin Brocade Arts and Crafts Asagi.
The Maru-Obi is still the best style of the most formal dress in Japan. But, production is being reduced because it is heavy and difficult to tie. Now there are few opportunities to see.
However, because both front and back surfaces can be used, "A relationship with no front and back(= not two faced ) "
and since the long Obi means "long relationship", it has been regarded as a Obi that parents can give to their brides.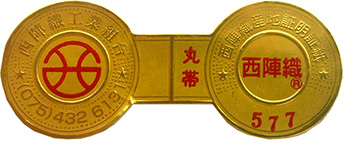 Nishijin Textile Industrial Association member certificate number 577
"Nishijin textile Maru-Obi" has received Japanese aesthetics, which parents think of their children. In order to cherish such a traditional culture, Nishijin Brocade Arts and Crafts Asagi has created a light, soft and easy to tie Obi.
At the same time, we were able to create new beauty values for Nishijin textile.
For example, weaving as a craft, such as folding screens, hanging scrolls and tapestry, gave rise to the value of "watching as art" as well as "wearing" the Nishijin brocade Maru-Obi.
Through the activities of the Nishijin Brocade Asagi Museum, "Asagi" wishes to leave Nishijin textile, Japan's oldest traditional craft, to future generations.
To Companies
New possibilities for Nishijin Brocade Asagi are expanding beyond the area of Obi, as a folding screen, barrier painting, and interior.
Nishijin Brocade Arts and Crafts Asagi